Across the globe sports activities bring joy to people. Sports are also good for health, they promote important values such as fair play and they rally people together. These and other benefits are well-known. But in addition, why do we use sports to support refugees?
To answer this question one first needs to understand the context. Escaping from war and persecution, refugees have left everything behind: relatives and friends, their belongings, their country. They find safety abroad but that is often about all.
Many are traumatised. Many have to live in harsh conditions, in urban slums or refugee camps where there is no secondary education and where they depend on aid as paid jobs are not accessible for them. Solutions can take years, meanwhile refugees sit idle in camps, frustration sets in and human potential is wasted.
Obviously sports cannot solve all these problems, but they can make a big difference in the lives of refugees rebuilding their lives away from home.
Impact Goal 1: improving refugee mental and physical wellbeing
Through KLABU sports projects, we first of all want to support refugees to reconnect with feelings of joy, pride and hope, which some have missed for so long. We want to fight lethargy and indifference. Help build confidence and trust. This way, sports should strengthen the resilience of refugees not only to cope with but to grow in a very difficult situation. This may even have a healing effect on past traumatic experiences.
Impact Goal 2: increasing refugee self-reliance
We also aim to stimulate initiative and develop life skills such as team work. That's why KLABU clubhouses are led by refugees, for refugees. Through these safe and stable spaces, communities are strengthened and opportunities arise. This goes further than access to sports: our clubhouses' reliable solar power and Wi-Fi connectivity give people the tools to study, work and build a brighter future. Moreover, other local and refugee-led organisations are welcome to use the facilities for their programs focused on health, entrepreneurship and education - thereby further increasing impact. 
Impact Goal 3: stimulating refugee integration and inclusion
KLABU sports activities are an important vehicle for positive interaction and cooperation between refugee and local communities, which is not always self-evident. Integrating them into sports activities has the potential of boosting acceptance and integration in other domains. Additionally, we prioritise the inclusion of girls and of the elderly - through active mobilisation and the organisation of their favourite activities. Lastly, through sports and our KLABU sportswear brand, we aim to build bridges with the wider world by increasing awareness for the refugee cause and international goodwill and support - thereby building the world's biggest club!
"A healthy mind in a healthy body: sport is my cure."
This way, KLABU contributes to the following United Nations' Sustainable Development Goals:
SDG 3: Good Health & Wellbeing

SDG 4: Quality Education

SDG 5: Gender Equality

SDG 8: Decent Work & Economic Growth

SDG 10: Reduced Inequalities

SDG 11: Sustainable Cities & Communities
How we measure our impact
Our local Clubhouse managers track participation levels and share the data with the KLABU team in Amsterdam. We also collect feedback through occasional surveys. Through this quantitative and qualitative data, we evaluate on a continuous basis whether we are achieving KLABU's three key impact goals. 
To improve our impact measurement and better monitor our projects, together with leading digital agency OWOW, we are creating a KLABU Community App for our members to share direct feedback on an anonymous basis, and for KLABU to create satisfaction surveys. With this app, we will be able to receive unfiltered, honest and constructive feedback straight from our members so we can improve our projects.
"KLABU taught us to understand our potential and enhance it in our work. We feel like we are part of a team, that we have roles and a bridge to the outside world."
Our impact so far
Since 2019, we have launched five clubhouses across four countries: in Kenya, Bangladesh, Greece and the Netherlands. In 2024, we will open at least two more clubhouses in Brazil and Mauritania, expanding our reach. This is central to KLABU's philosophy: building the world's biggest club for those who don't have one.
Across our current locations, we have 15,000 participants every month that take part in daily activities that improve mental and physical wellbeing (impact goal 1). Contributing to community self-reliance (impact goal 2), we employ 23 people who run the projects with passion and love - making it their clubhouses. Furthermore, the teams are a mix of refugee and host community members, stimulating integration and inclusion (impact goal 3).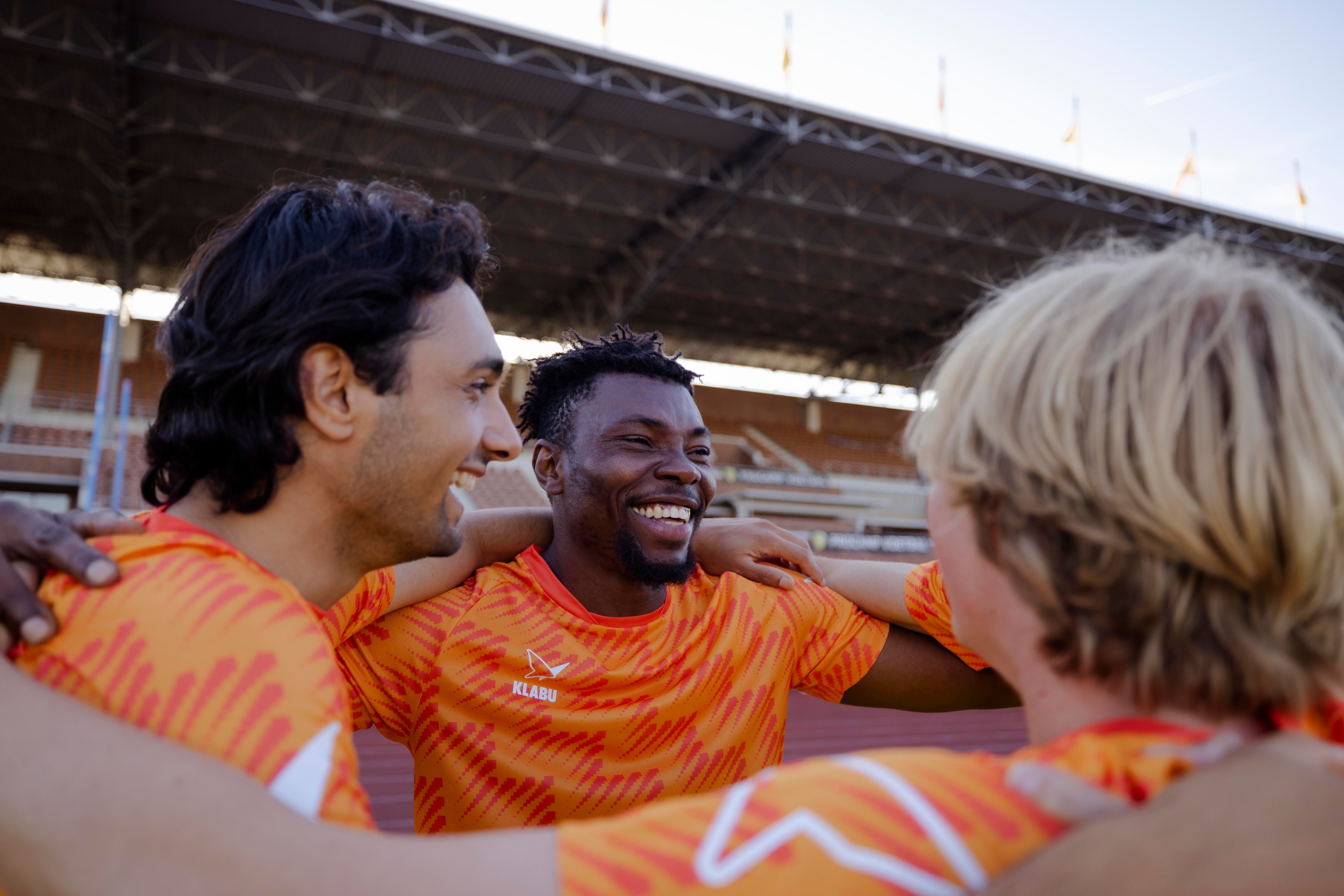 "I would say KLABU is one of the best things that have ever happened to me. Being with KLABU is like having a family away from home."