Discover the colourful and playful version of the KLABU world, as imagined by Amsterdam-based artist, illustrator and friend Saša Ostoja.
What comes to mind when you think of the KLABU world? Colours, footballs, vibrant shirts, different countries, music? A big family, friendships or sometimes some competition? Why not ask Saša Ostoja, Amsterdam-based artist, who recently created his version of the colourful and playful KLABU world?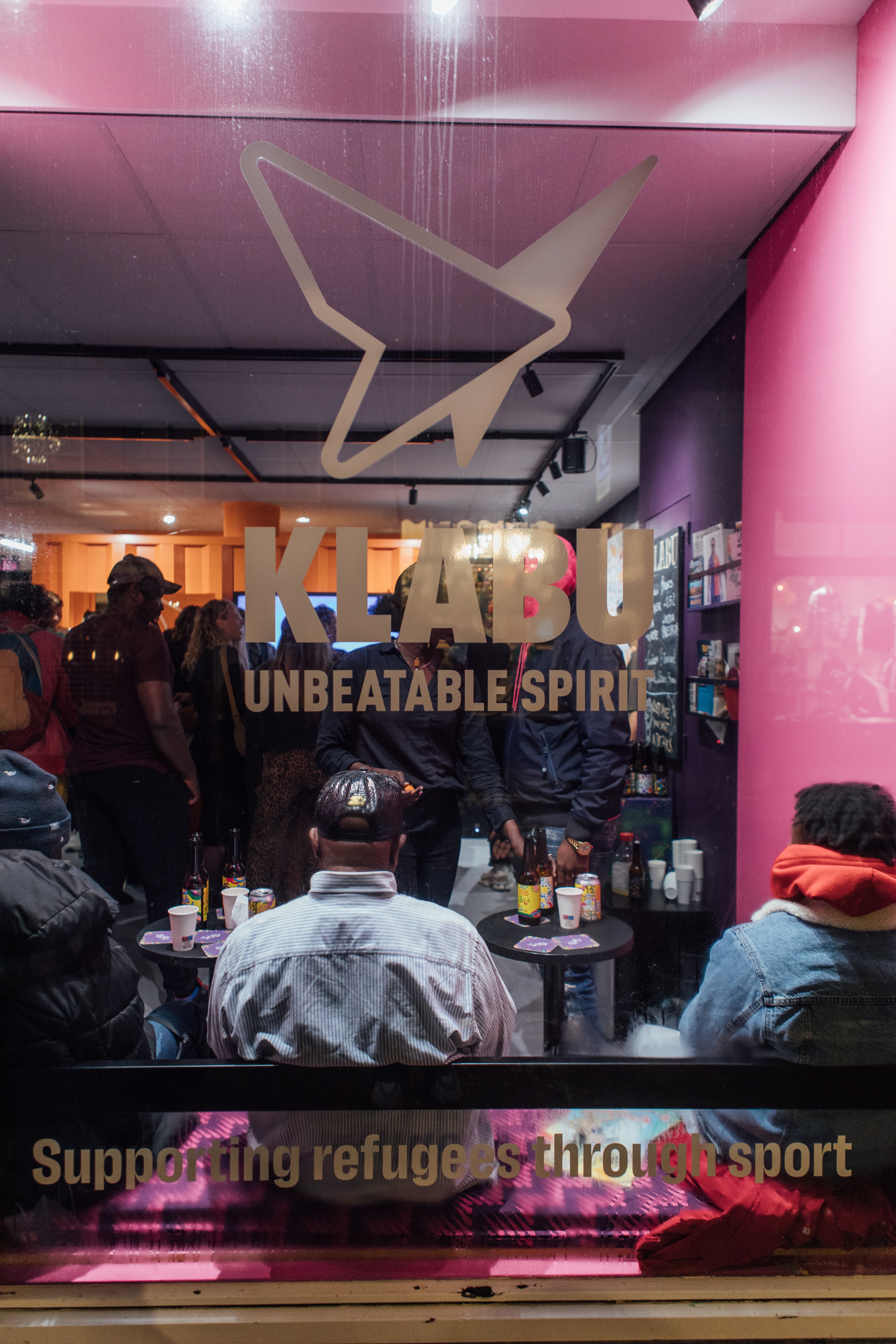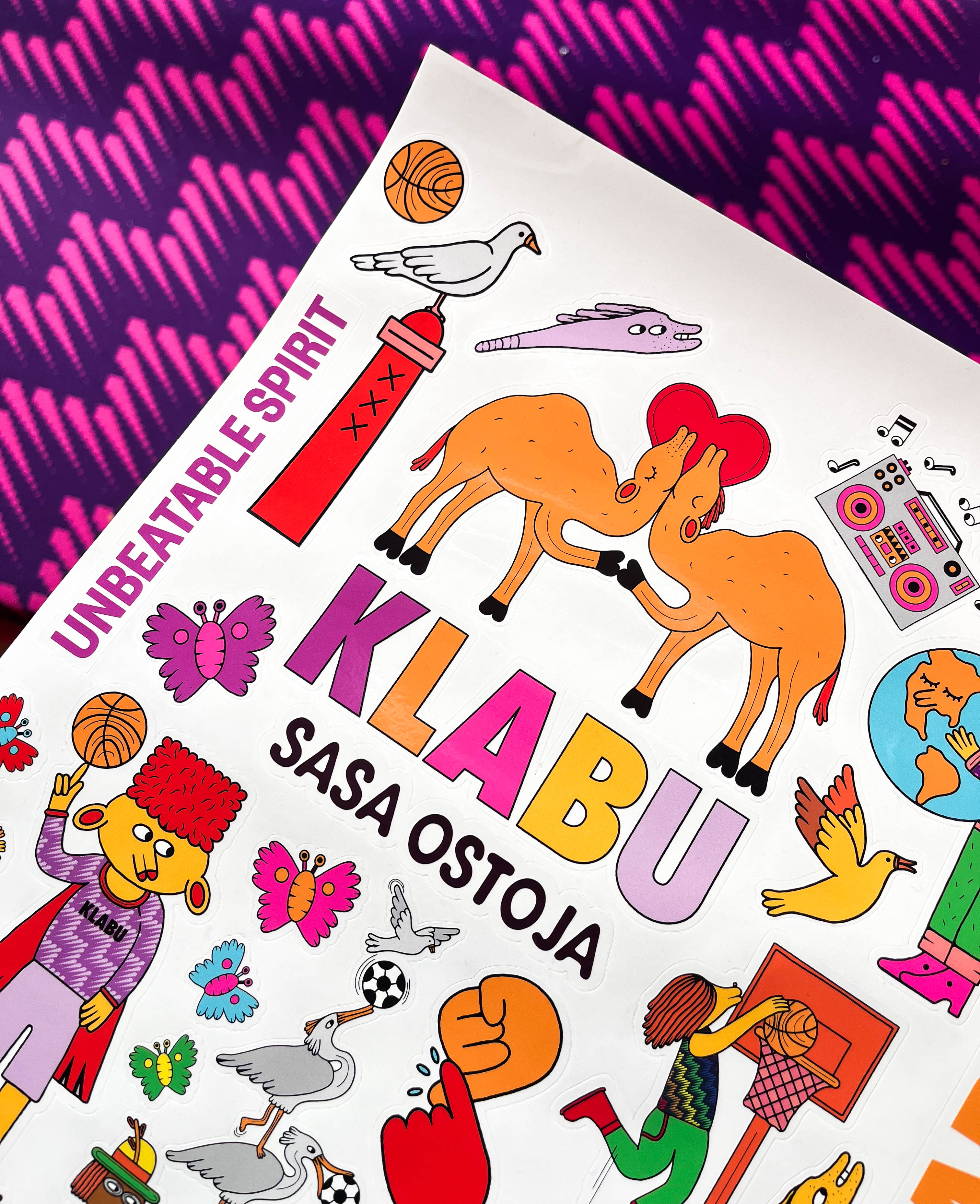 Earlier this year, our KLABU team member Alex Webb reached out to Saša, being a big fan of his work. As cliche as it might sound, it truly was a match made in heaven, especially when Saša joined one of our Tuesday workout events in Amsterdam. As a massive football fan and a lover of sports, this would be a great opportunity to dive into the KLABU spirit. The community, the sense of togetherness and happiness resonated deeply within him. "It was such a positive event. I really saw the excitement and joy on people's faces." And here is where he found his inspiration for the artwork. Saša was intrigued by the diversity of the group, so he thought to himself "What would be the outcome if I asked some questions about their favourite sports and animals?"
The next step was to create a piece that would include everyone, but at the same time evoke an uplifting feeling that piqued a looker's interest. For Saša this could only be seen as a positive challenge, finding "…the perfect rhythm between all the illustrations…" to avoid having large empty spaces and of course, keeping it goofy!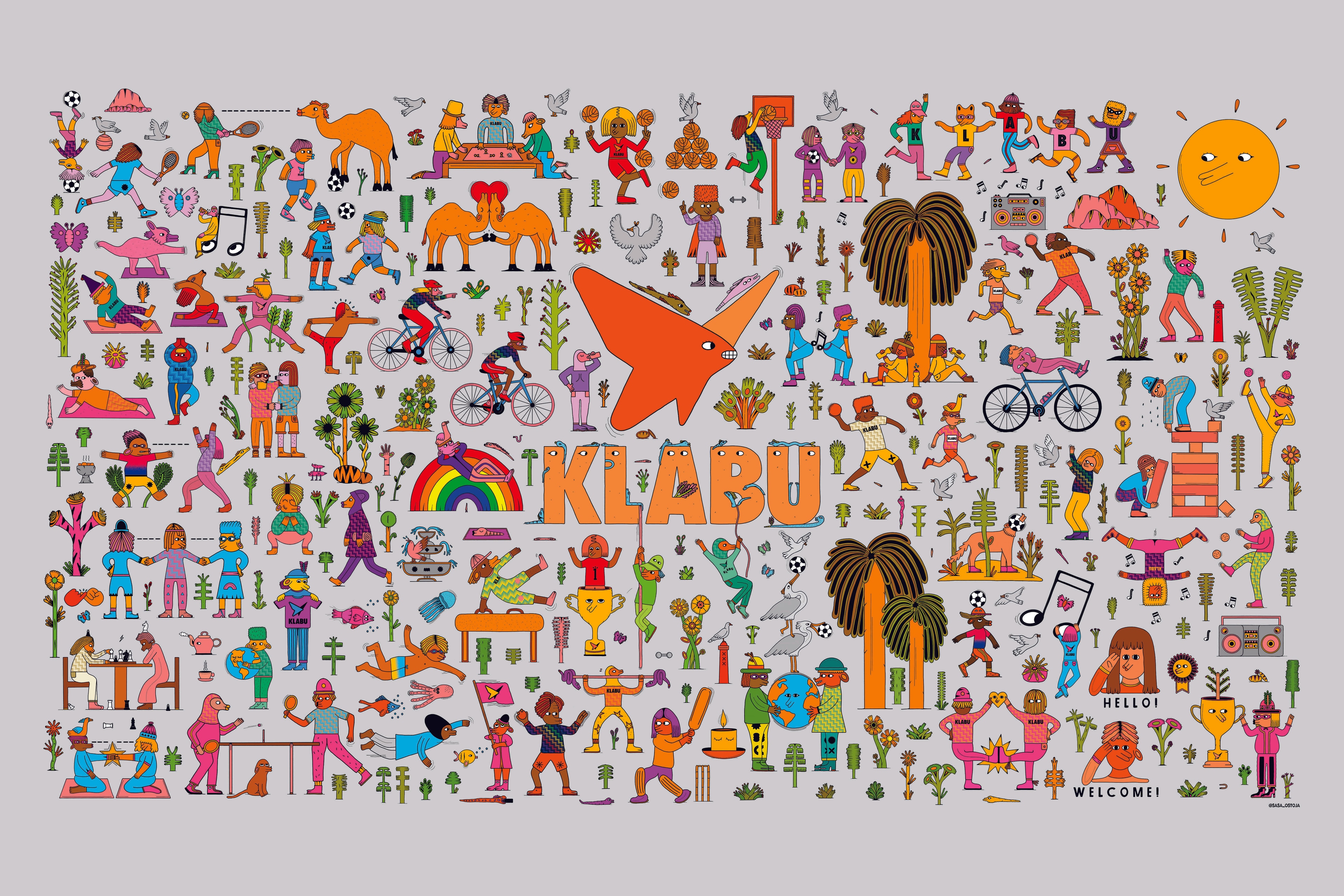 What resulted was a spectacular canvas (pictured above) and from that, we created a capsule collection of tees for both adults and children. The lighthearted illustrations reflect what sports means to our community: it is an escape and source of positivity in situations that can be challenging and disheartening for some. We were so touched with how Saša interpreted KLABU and brought it to life in his drawings that we also wanted to celebrate it and dance like his characters do!
"To put some spark in the lives of people that are in really heavy conditions and use sports as a glue is really amazing. And I'm happy that I can be a part of the KLABU family."
So last week, we had a very special launch party at the KLABU Amsterdam Store & Clubhouse! It was the first event organised by our new Community Manager Julia and this is what she wrote about it to the team: "First of all, thank you so much for your help, (emotional) support, and such positive energy. I was panicking internally that the clubhouse will be empty by 9, but turns out our community didn't want to leave even after 10! There was a constant stream of people for all four hours, the crowd shifting every now and then. Beers ran out (very) fast, one of the speakers didn't work well, and snacks are a must, all things which can be fixed next time. The energy and the community feel can't - it was really beautiful to experience what KLABU has built over the last couple years and to be a part of it now."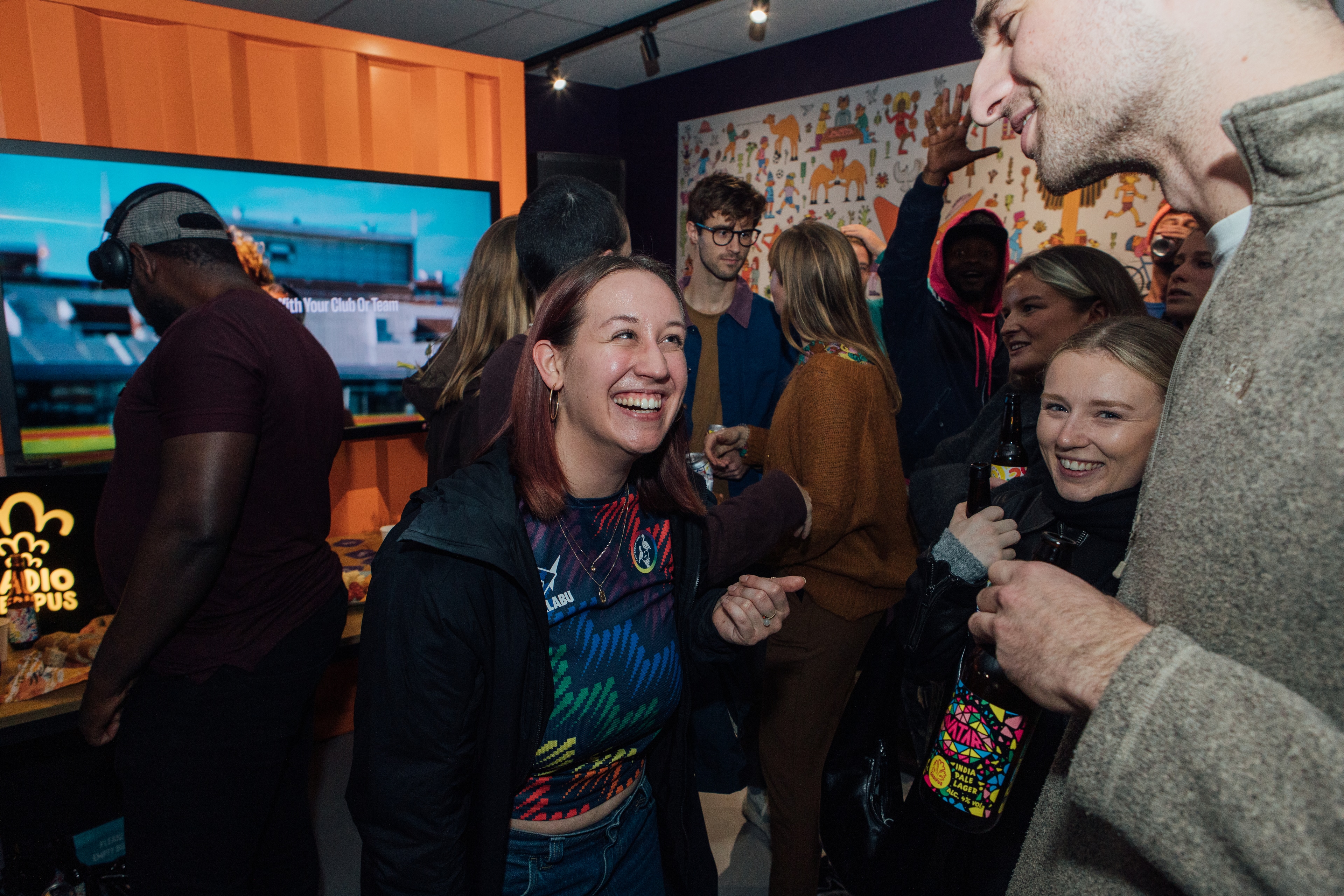 "There were so many different people and yet not a single one without a smile. It was so lovely to see everyone chatting and laughing, even attempting a cheeky boogie towards the end."
Individuals and groups alike brought their contagious energy and high spirits to celebrate Saša's creations. From the incredible window display installed by Avery Dennison to the beverage and music provided to us by Oedipus Brewery, Oedipus Radio (Fininho), Misa and Innocent, we are immensely grateful to have a phenomenal community that is so diverse and supportive of the KLABU story. We would like to thank everyone who has been a part of this collaboration with Saša Ostoja and thank you to those who continue to spread the KLABU Spirit.
If you would like to be a part of this story, explore the collection here and if you're in the neighbourhood, come by the store-we'll be more than happy to have you with us!